Cluster Mailboxes - USPS Approved
Durable Outdoor Pedestal Mailboxes
U.S. Mail Supply offers a variety of outdoor pedestal style mailbox units for sale, including commercial mailboxes and residential mailboxes. Vital F-Series Cluster mailboxes from U.S. Mail Supply are USPS approved and come in a variety of sizes and configurations.
Our pedestal mailboxes are built to withstand adverse weather conditions. They're durable and available in a wide variety of configurations and styles from decorative to standard. With powder-coated aluminum build, no rain is going to rust these mailboxes anytime soon. Your mail will stay high and dry with pedestal mailboxes from US Mail Supply.
What you Need With your Cluster Box Unit from U.S. Mail Supply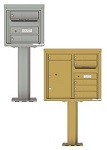 Everything you need is included with your new cluster box unit from U.S. Mail Supply except for two things. We do not include the USPS "Arrow" Locks for security reasons. The USPS does not allow the factory or any non-USPS personnel to possess the master locks (also known as "Arrow Locks"), which are installed in the outgoing mailbox door, as well as each of the parcel locker doors. The local USPS will install this lock on these doors upon your request to do so. We also do not include Anchor Bolts for mounting the unit. The USPS has requested we do not include the anchor bolts for mounting the unit to concrete due to varying frost lines throughout the United States. The factory recommends ½ inch diameter J-Bolts, with the length to be determined by the thickness of the concrete pad (pad depth commonly 5-6 inches). You will need four anchor bolts per unit, and they can be picked up at any local hardware store. Please refer to the installation instructions that are shipped with the mailbox.
Shop Options for Apartment Mailboxes from U.S. Mail Supply
We've got a deep supply of multi-family apartment mailboxes available for sale online. If you're considering indoor options or breaking down mail boxes into single units, check out our fully inventory.
Call the pedestal mailbox experts at 262.782.6510 or 800.571.0147 for more information.