Buy Mailboxes Online from U.S. Mail Supply

America's Headquarters for USPS Mailboxes, Postal Specialties, Storage Solutions, Mailroom Equipment and Supplies – U.S. Mail Supply
U.S. Mail Supply, Inc. is a leader in manufacturing and distribution of commercial and residential mailboxes, post office boxes, cell phone cabinets, mail sorters, mail hampers and other post office and mailroom equipment, furniture and supplies. U.S. Mail Supply strives to meet our customers' needs in every way, offering the highest quality USPS mailbox products sold at very competitive prices while always providing the industry standard in superior and knowledgeable customer service. U.S. Mail Supply offers a wide variety of supplies and specialty postal products to businesses, post offices, property managers, homeowner associations, housing authorities and individuals.
Buy tough metal indoor & outdoor mailboxes that are built to last.
USPS Mailbox Requirements
As of 2006, USPS mailbox regulations require all new construction and major renovations must have USPS compliant STD-4C mailboxes. Buying from US Mail Supply ensures you get the perfect commercial mailbox for your building, and you are compliant with all USPS mailbox requirements. Our USPS approved commercial mailboxes are perfect for use in countless businesses.
USPS Mailboxes For Sale Online
We are sure our mailbox, storage and mailroom selection can accommodate your needs. U.S. Mail Supply's products can be found in literally thousands of communities throughout the United States, including apartment buildings, condominiums, colleges and universities, office buildings, medical centers, military bases, government buildings and more. With customers in all 50 states, our professional reputation has grown to be the USPS approved industry standard. If you're looking to buy cluster box unit mailboxes, 4C mailboxes, PO boxes, vertical mailboxes, horizontal mailboxes, residential locking mailboxes, decorative mailboxes, collection boxes, parcel lockers, or postal products for your post office/mailroom including mail hampers, mail totes, mail trays, mail sorters or mailroom equipment (like carts, sorters and supplies) - your search is over!
Best Mailroom, Storage Solution and Postal Product Company!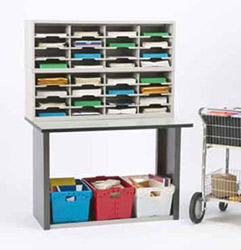 If you are in the market for mailboxes, mailroom equipment or lockers you have come to the right place! We know that many of the products we sell can be extremely confusing – after all, how many mailboxes, collection boxes, mail sorters, etc. is the average person going to buy in their lifetime? Not many, that's for sure. So we don't expect you to have all of the answers, or even to know all of the right questions to ask. So, we encourage you to peruse our website and make use of the tremendous amount of information we have provided here – but when you find yourself getting confused or if you can't find the answers to your questions, that is the time for you to call us and speak with our friendly and knowledgeable customer service staff. Every member of our team goes through two months of rigorous training before they are even approved to answer a phone call, so we are sure each and every sales person will be able to guide you, answer all of your questions and ensure you are buying the right product for your application. So if you are nervous, confused or afraid you might be ordering the wrong thing – Call us! We'll make sure you can sleep like a baby tonight!
U.S. Mail Supply Products
Outdoor Pedestal Mailboxes & Mail Kiosks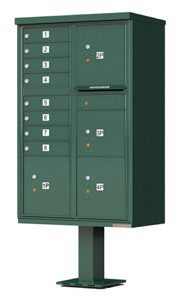 Our outdoor pedestal style mailboxes are constructed to withstand all types of weather. With models available for both commercial and residential use, in a variety of styles, sizes, and configurations. US Mail Supply's stainless steel and aluminum mailboxes won't rust in the rain, keeping your mail and packages dry and safe. Our decorative cluster mailboxes are perfect for an apartment complex or other multi-family living facility.
4C Horizontal Mailboxes
4C horizontal mailboxes meet the latest USPS regulations and high postal security standards to keep your mail safe and protecting you from identity theft. These durable wall mounted mailboxes will last through decades of daily use. Use our 4C Horizontal Mailbox Design Assistant for a customized mailbox configuration and a price quote.
Indoor Mailboxes (Replacement & Private Use)
Ideal for multi-tenant housing, hospitals, military bases, and universities, U.S. Mail Supply indoor mailboxes give everyone at your location a convenient place to get their mail. Our variety of indoor mailbox solutions includes:
Horizontal
Vertical
Custom
Private use Horizontal Mailboxes with Rear Loading or Front Loading Options
Our indoor mailboxes are designed for security and vandal resistance.
Drop Boxes & Postal Specialties
U.S. Mail Supply offers top-quality pedestal, free standing and wall mounted drop boxes and postal specialties for any location. Our postal specialties include mail slots, mail sorters, key keepers, parcel lockers, and more. US Mail Supply provides sturdy, secure, and weather proof drop boxes which will keep your packages and letters safe until they are collected.
Mailroom Equipment, Furniture & Supplies
Keep your mailroom running smoothly with mail carts, hampers, movers, and trucks. From mail sorters and trays to bags, bins and tables, use our equipment to organize your mailroom. Shop our mailroom accessories and supplies to optimize efficiency, reducing the risk of lost mail and keeping your employees happy.
Residential Mailboxes
If you're looking for the perfect mailbox tailored to your home's existing décor, browse our wide selection of residential mailboxes. U.S. Mail Supply carries post-mounted, column-mounted, and wall-mounted mailboxes in a variety of decorative styles. Our pole-mounted mailboxes is available in four elegant metallic finishes. The column-mounted boxes come in durable powder coat finishes, including:
The wall-mounted mailboxes feature locking capabilities, keeping your mail and packages safe and secure.
Lockers & Storage Solutions
U.S. Mail Supply provides bulk storage solutions for apartment tenants or businesses. Heavy duty construction guarantees years of security with no sagging, leaning, or buckling, with little to no maintenance. Easy to move and install, our lockers and storage solutions can also be used in school or factory locker rooms.
Site Amenities
To improve your property's convenience, U.S. Mail Supply offers site amenities such as our DOGIPOT Pet Waste Disposal System. Make your location clean as well as pet friendly, whether it is a public park, an apartment or condo complex, a campground, or a hotel yard. We also carry accessories such as litter pick-up bags and trash liner bags.
Contact U.S. Mail Supply or dial 262.782.6510 or 800.571.0147 for more information.