Indoor Mailboxes for Apartment Complexes, Office Buildings, Condos, New Construction and More!
What You Need to Know Before Purchasing: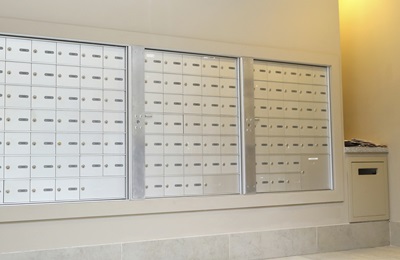 Most often used in apartment buildings, condominiums and college dormitory housing, horizontal and vertical mailboxes were the standard for centralized mail delivery for decades. These mailboxes are still widespread throughout the USA; however, since the U.S. Postal Service adopted the new STD-4C specification for wall mounted mailboxes in October of 2006, many things have changed.
Vertical or Horizontal Indoor Mailboxes: Which Option is Best for Your Specific Needs?
There are still two main designs for multi-tenant mailboxes, either for USPS or private mail delivery: Vertical and Horizontal. Your aesthetic preferences may be the sole determining factor as to which design is right for you. However, there are some specific differences.
Private Use vs USPS Access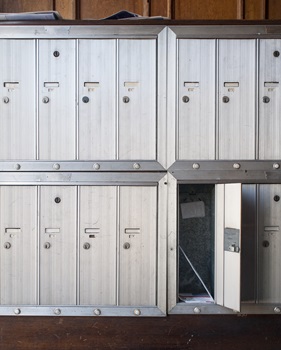 The most important difference is that, in order to accommodate the larger size of today's mail, vertical mailboxes are no longer approved for new construction, new mailbox applications or major building renovations if they will be accessed by the US Postal Service. They are USPS approved for replacement purposes, and only if replacing existing vertical mailboxes in the location. This also means that if you have been using Horizontal Mailboxes for your tenants' USPS mail delivery, you will not be able to replace it with a Vertical style mailbox. On the other hand, if this mailbox is solely for private mail delivery (non-USPS), you may choose a vertical or horizontal mailbox.
Available in fully recess mounted models or surface mounted, vertical mailboxes are designed to fit into smaller areas with minimal wall-space. This partially explains why Verticals were so popular with builders for the better part of the twentieth century, but it also explains why they are no longer allowed for new construction. Anything larger than a small parcel or thick envelope is undeliverable with the narrow Vertical mailbox compartment size. But vertical mailboxes do remain USPS Approved for replacement purposes only.
More Mailbox Space for Today's Marketing and Mail Driven World
In any other situation, you'll have to opt for the horizontal mailbox design. This might be a boon for you, though, as they can be customized to include a box for large parcels, as well as an outgoing mail compartment. They are constructed from aluminum, with stainless steel components, and are available in front or rear-loading.
Purchase Online, Design a Custom Configuration, or Give us a Call to Order!
Perhaps the multi-tenant mailbox at the apartment building you manage has outlived its usefulness, or maybe you're doing a cosmetic redesign of the lobby and the old brass mailbox simply won't do. Or you're building a new college dormitory for an expanding university and you want a multi-tenant mailbox designed for security and vandal resistance. Whether it's a rest home, hospital, or military base, any multi-tenant housing location needs a suitable mail delivery system, and these mailboxes remain the best option to ensure your tenants have a safe, secure, convenient place to receive their daily mail.
Return to Current Postal News