Drop Boxes & Postal Specialties
Parcel & package drop boxes for residential & commercial use
Drop boxes for parcels, packages and mail from U.S. Mail Supply are top-quality. Secure and sturdy, your packages and letters will be kept safe until your mailman arrives to collect the contents. The materials used in making these boxes are chosen for their ability to withstand a beating.
Types of Drop Boxes and Collection Boxes
Our collection boxes are built with powder-coated stainless steel, weatherproof and corrosion-resistant aluminum components, and pry resistant locks for maximum security. Check out our selection to find out which U.S. Mail Supply drop box is right for your needs.
Secure and Convenient Postal Drop Boxes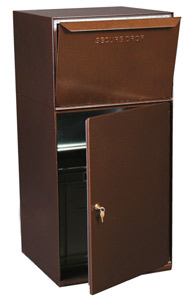 U.S. Mail Supply has postal drop boxes and postal specialties like package drop boxes, mail sorters, parcel lockers, mail slots, key keepers, delivery vaults, collection boxes and more. We supply pedestal, free-standing and wall-mounted drop boxes and collection boxes for all types of locations. Not sure which solution is the best for you? Call us and we will be glad to help you choose the best drop box or collection box for your location and application.
Packages left in the open are often targeted by criminals. US Mail Supply designed these USPS approved drop boxes to keep your packages safe, ensuring they get picked up by your postal worker. They feature pry resistant locks and stainless steel hinges for maximum protection.
U.S. Mail Supply knows you're also concerned about the durability of your drop box. This is why we offer drop boxes built with powder-coated stainless steel and weather and corrosion-resistant aluminum components. Check out our full selection of drop boxes and other postal specialties, and be sure to call us with any questions you may have.