Indoor Commercial & Residential Mailboxes - Replacement & Private Use
Indoor Commercial & Residential Mailbox Solutions
U.S. Mail Supply provides you with replacement and private use indoor mailbox solutions for multi-tenant locations, commercial buildings, and institutions. We've got a range of options including horizontal mailboxes, vertical mailboxes, and custom or private use horizontal mailboxes – Please call us if we can help to point you in the right direction!
View all available mailboxes for sale from U.S. Mail Supply.
Safe and Secure Indoor Mailboxes
We are sure to have the right indoor mailbox for you no matter what the extent of use or situation. From a small apartment building to an entire university, hospital or military base, we make sure everyone has a place to receive their mail in a space-conscious, efficient, and convenient way. U.S. Mail Supply constructs all of our indoor mailboxes with aluminum and stainless steel with the option of either rear loading or front loading depending on your specific application or preference. We adhere to high postal safety standards, and design our mailboxes for security and vandal resistance. We supply only the best quality mailboxes you can trust.
We offer a huge variety of apartment mail boxes for sale for multi-family residencies across the United States - from indoor horizontal mailboxes to outdoor cluster boxes. If you're exploring outdoor or residential single unit options, check out our full inventory.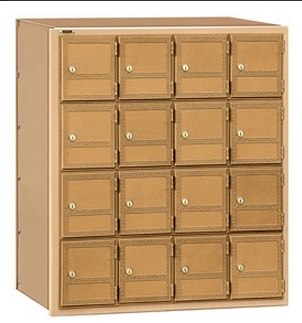 Horizontal Lockable Indoor Mail Boxes for Multi-Family Residences and Universities
Its rugged construction and heavy build make the USPS-approved Horizontal Mail Boxes ideal for many locations. These high-security mailboxes provide tenants with reliable and safe mail service.
Fully-Customizable Mail Supplies
Customize your tenants' mailbox with three number decals or engrave up to six characters for identification. Choose from these powder coat finishes:
Bronze
Black
Dark bronze
Gold speck
Postal gray
Sandstone
Silver speck
White powder
The horizontal mailbox are used for indoor use and are not warranted for outdoor use. Documents and dimensions for installation can be found on our product page.
Vertical Lockable Indoor Mail Boxes for Residential and Commercial Use
The perfect mailbox for tenants is the Vertical Mail box. These are corrosion resistant and rust proof to increase the lifetime of the mailbox. All indoor commercial mailbox units are available in the original aluminum silver finish. Other finishes increasing abrasion- and corrosion-resistance are powder coats available in:
Brass
Bronze
Sandstone
Green
You also get one name card holder per door for tenant identification. There are two installation options you can choose from once you have your vertical mail box—the recess mount or the surface mount. Expect highly-secure mailboxes for your tenants no matter which mount you choose.
Contact U.S. Mail Supply today at 262.782.6510 or 800.571.0147 for more information.