USPS Approved Mailboxes
Finding a USPS Approved Mailbox and How to Get USPS Approved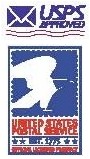 Buying a new mailbox might seem easy, however there are regulations enforced by the United States Postal Service regarding mailbox specifications. Many postal customers aren't aware of these regulations, then become confused when their mailbox isn't approved.
The USPS has to regulate the types and styles of mailboxes allowed for residential and commercial use to prevent delays and accidents when delivering the mail. US Mail Supply offers a wide variety of USPS-approved mailboxes for homes and businesses. Residential and commercial mailboxes must meet specific USPS requirements, including box size, location, mail slot dimensions (when applicable) and identification information.
Depending on where you live, some of these restrictions and rules may not apply. To find out exactly what is and isn't approved for use by the USPS, contact your local post office for clarification or visit the official USPS homepage.
Residential Post Mailboxes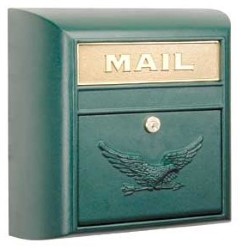 A residential mailbox on a curbside post must meet certain distance restrictions. All mail boxes must be 41" to 45" above ground level for easy delivery by foot or vehicle. The post must be 6" to 8" from the curb to avoid being a hazard for drivers or pedestrians. The posts themselves can be made of wood, steel, or aluminum. A post should go no deeper than 24" into the ground.
These mailboxes can be either traditional, contemporary, or locking. Both traditional and contemporary mailboxes can be made in three different sizes, depending on your needs. The approved sizes reach up to 22.8" x 11" x 15". Locking mailboxes are allowed more size dimensions due to their security features, though it is always recommended to check with your local post master before installing your own locking mailbox.
Indoor mailboxes can be horizontal, vertical, or custom made to meet your facility needs. All indoor mailboxes have available locks and keys to protect your correspondence and prevent identity theft. US Mail Supply even has USPS-approved drop boxes for safe package and parcel delivery.
Buying and installing the right mailbox for your home or business is easy with US Mail Supply. All our mailboxes are made to USPS specifications, and include easy to follow installation instructions ensuring you meet all official guidelines.
Wall Mounted Residential Mailboxes
Before installing a wall mounted mailbox to your home, you must check with your local post office to determine the height and position for approval. Postal carriers must be able to easily reach your mailbox from the sidewalk, your front steps or porch.
If you select a mailbox with a lock, only your incoming mail will be secure as USPS workers are not allowed to take your mailbox key. This can limit the size of parcels you will be able to receive based on your mail slot size.
Neighborhood Delivery & Collection Box Units and Cluster Mailboxes
Cluster mailboxes and neighborhood delivery and collection box units (NDCBU's) are used for easy delivery, to multiple residences at once. Since NDCBU's were transitioned out in favor of cluster boxes, there are more rules about their use by the USPS. New NDCBU's cannot be purchased or installed unless it is to replace an existing or damaged unit.
Cluster mailboxes from US Mail Supply are USPS approved, and include a host of security features. Compartments are reinforced, weather resistant and accommodate larger parcels than the previous NDCBU's. Please note, your local post office must be consulted before installation due to specific placement rules.
Shop Commercial Mailboxes
For more information on USPS-approved mailboxes, contact the mailbox sales professionals of US Mail Supply now.
Return to Current Postal News