Colored Vinyl Mailbags
Heavy Duty Mail Bags Make Office Coordination a Cinch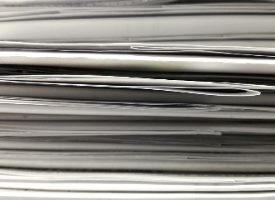 Colored reinforced vinyl mailbags are constructed to do the work for you. After you've gathered your piles of letters, documents and envelopes, it's easy to coordinate with the rest of your office thanks to the different color options available. Other features of these mailbags include:
18oz coated vinyl
Braided nylon cord
Can handle temperatures as low as -30 degrees
Machined finished brass grommets
Mildew & moisture resistant
Sewn with non-wicking thread
Single & double sewn seams
With red, blue, yellow and green vinyl mailbags and other mail carrier supplies for sale at US Mail Supply, it's never been easier to sort and organize your mailroom. Contact us today for more information regarding your options or browse our two color vinyl mailbag sizes below to get a better idea of the products we carry.
26" High Color Vinyl Mailbags for Professional Mail Sorting
Give your mail organization system a boost with the assistance of our color vinyl mailbags! This shorter option gives you just the right amount of space you need to sort your files and letters without hassle. Coordinating by color makes it easy for everyone in the office to catch on quickly and ensures the system continues efficiently.
Best Prices on 38" High Reinforced Mail Bags
With competitors charging you more than you should pay on the same or similar products, US Mail Supply proves to truly be your best option when shopping online for large reinforced mail bags like our 38" high mail carrier supplies. Available in a range of colors, these mail room sorter bags are designed specifically with coordination and organization in mind. Stay on top of your incoming and outgoing mail with the help of our 38" high mail bags!