Cell Phone Lockers
Shop Cell Phone Locker Cabinets for Sale Online
Cell Phone Lockers are Ideal for Work, Sports Complexes, and Schools
Don't worry if you're not quite sure which the best cell phone locker is for your specific situation. U.S. Mail Supply will help you decide the best size and locking option for your needs. Contact the cell phone locker specialists at U.S. Mail Supply and speak with one of our knowledgeable representatives for more information and guidance.
Discover which cell phone locker is right for your facility, by contacting the small item storage locker specialists at U.S. Mail Supply by calling 262.782.6510 or 800.571.0147 today.
Securely Store Phones, Keys and Other Personal Items

U.S. Mail Supply offers a selection of cell phone lockers for flexible and secure storage of cell phones, wallets, iPhones and other small accessories. Our flexibly configured cell phone lockers come in several sizes. We offer a full range of cell phone locker configurations in a wide variety of sizes and colors. You can choose from either recess mounted or surface mounted cell phone lockers, and two locking options to best suit your needs. Choose from standard keyed locks with 2 keys each, or 3-digit combination locks. All cell phone lockers from US Mail Supply come standard with a clear anodized aluminum finish but other powder coat finishes are available with an upcharge. These lockable storage cabinets are excellent for securely storing mobile phones, keys, cameras, and other small accessories, the ideal solution for government buildings, sports complexes, military facilities, offices and more anywhere cell phones are prohibited or secure storage for small accessories is necessary. Please take a moment to look at our NEW Locking Cell Phone Cabinets with Wood Trim for an aesthetically pleasing cell phone storage solution.
Designing Phone Lockers to Meet Your Needs
We offer cell phone locker design services tailored to your unique facility requirements. Select from surface or recess mounted lockers for easier access. Our Cell Phone Locker Design Assistant asks a few simple questions which help our mailbox design professions create the right type of locker for your needs. Different height and widths give you the option of allowing cell phones, tablets, and other electronic devices to easily fit in each compartment. You are even able to select the type of lock and color scheme for your lockers, giving you a completely customized look.
Cell phones are an incredibly useful technology, but they are also quite a distraction in a professional setting. Many facilities, like hospitals and courthouses, have started banning cell phones and other devices to limit this behavior. Of course, asking employees or visitors not to bring their phones or other electronics is nearly impossible. Convenient cell phone lockers can provide the perfect solutions: phones are kept safely out of reach and employees are more productive.
Some business simply collect phones rather than use lockers. This can lead to many issues, including damage, loss, or theft. Visitors will be reassured their valuables will be protected in a U.S. Mail Supply cell phone locker. Custom designed lockers can fit wherever you want them for easy, secure access to your electronics throughout the day.
Choose the Best Locking Option for Your Business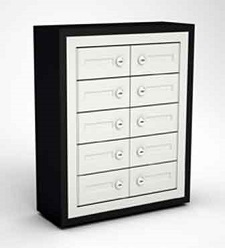 The locking features allow these items to compliment various businesses. The padlock option is great for a business looking to gain revenue by renting out cell phone locker spaces to their customers. For a small fee each customer can feel confident their belongings are safe and secure while in your establishment. Key lock or 3-digit combination are reliable options for businesses providing cell phone lockers for their employees. Our locking devices are a simple, yet secure way to remove electronic devises from the office to increase productivity.
Customize Your Cell Phone Locker
Aside from the size, depth and locking options, you are also able to customize the overall look of your cell phone locker. Choose from five different kinds of wood trim including gray, black, oak, walnut and maple, as well as custom finishes including: anodized aluminum, gold speck and dark bronze. If after all of these options you would still like to further customize your unit, you have the option to pick the exact number of compartments which will be featured. The size of the compartments are 5"x4" or 5x8". U.S. Supply Mail has the capability to design a cell phone locker which complements any business.
Where Cell Phone Lockers Are Being Utilized Today
Federal buildings like military bases, hospitals, correctional facilities and court houses do not allow the use of small electronic devices. Cell phone lockers offer a safe and secure option for these types of facilities. Cell phone storage units are also popular in health clubs, recreation facilities and schools offering a convenient and safe storing option for everyone.
Contact the cell phone locker specialists at U.S. Mail Supply today to find your ideal model.