Office Mail Sorters & Mailboxes for Sale
Employees Use Our Mail Sorters to Improve Office Organization
US Mail Supply sorts through hundreds of mail sorters to find the best mailboxes for your office employees. Make it easy to organize business letters, financial documents and your office assistant's drafts with the help of our steel mail and literature sorters. These durably manufactured cubby shelves are constructed to last a long time – find the best model suited for your needs:
Choosing the right mail sorter is just as important as hiring the right employee. US Mail Supply acts as the liaison between your company and potential candidates. Browse through our selection of mailboxes and mail slots today – we organize our stock by their number of compartments, size and mobility.
Clean Workspaces Increase Employee Productivity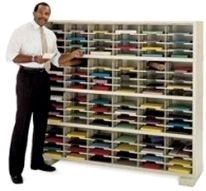 Being disorganized wastes time and money. The relationship between organization and work suggests that a lack of office infrastructure geared toward efficiency costs your business significant amounts of lost time and money each year. One survey suggests that an employee can potentially waste up to two weeks a year on the clock looking for things that are misplaced. Other surveys suggest even higher numbers.
The old adage, "a place for everything and everything in its place" is essential for home and even more important at work. Start small, even a mail sorting station with tables can make a large difference in organization and efficiency!
Vertical Mail Sorters Make the Most of Your Space
Vertical stacking mail sorters can maximize surface area and give you more space at your desk. Make sure you have adequate work space to complete tasks - preserve your limited table-top real estate by using mail and file sorters, which are easily stackable. These sorters can be customized to fit items large or small. Organizational tip: if you use it often, keep it close for easy access.
Label everything! Labels are the turning point for maintaining an organization system. Find a place for everything, label it, and stick to it (pun intended).
Steel Mail Sorters Ensure Security Regulation Compliance
US Mail Supply carries HIPAA Compliant Steel Security Mail Sorters, perfect for protecting everything from cash and checks to sensitive medical documents. These mail sorters are made with high strength welded steel and offer unmatched protection. A lightweight rollaway aluminum door protects sensitive documents from prying eyes once secured with two locks. Available with as many as 80 pockets, Steel Security Mail Sorters come in three widths:
Open and Closed Back Office Mail Sorter Options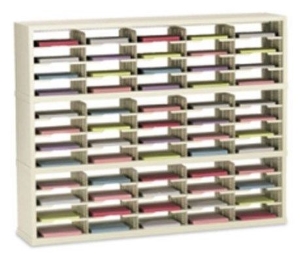 Access to mail, documents and files from both sides - a great space saver for smaller offices.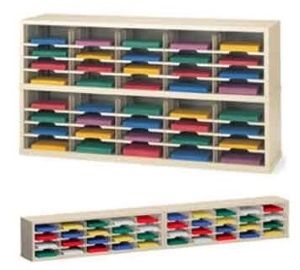 Use that wall space RIGHT. Turn an empty wall into a organizational hub for your office.
Create spaces for different tasks and duties of your job. For example, if you have a specific notebook and folder designated to meetings, or a specific binder for a portfolio or presentation, have a plastic bin or shelf to keep these items separate. Be sure to return them after meetings and you will always be prepared! Along the same line, keep a physical 'Pending' folder and one in your email inbox as well. As you complete a project, file it accordingly. Good practices increase productivity. Keep a notebook close by for jotting down contents of important phone calls and discussions with co-workers as they arise. Tidy your area every day before you leave. Disorganization can cause stress and you could lose important tasks in the clutter.
Improve Workflow and Get More Organized!
Your staff deserves the best mailroom organizers. From employee to employee, everyone agrees a metal mail sorter is one of the best investments you can make in your business. Don't shy away from improved office efficiency and organization. Seek out the best mail and cubby systems for sale at US Mail Supply!
Return to Current Postal News