Totes and Trays for Elections
Totes, Trays and Other Containers Make Ballot Sorting and Transportation Easyplastic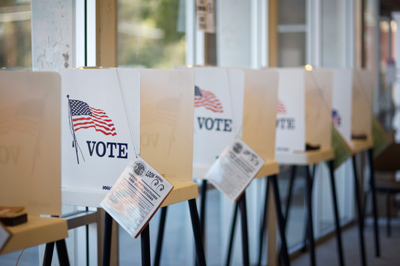 Mail totes and trays are the perfect way to sort and store ballots in busy polling places. Anyone who fills out a ballot in an election engages in a right so ingrained in the American spirt, it is nearly sacred. Every vote counts. Collecting, sorting and accurately tallying ballots is essential to the election process. Local election inspectors have the responsiblity to ensure the vote is fair and accurate. Accomplishing this requires the best suplies to aid in the task.
You can count on mail containers from US Mail Supply to be your best friend when it comes to keeping the ballot secure. Polling places depend on our plasticcorrugated totes and trays to provide sturdy storage for election ballots. Our totes are an excellent way to store extra ballots for national and local elections.
What Role Do Totes Play in Ballot Counting?
Our colored totes and trays give ballot counters easily identifiable containers for separating spoiled or blank ballots, write in entries and provisional ballots. If your votes need to be transported to a counting facility, US Mail Supply's corrugated plastic totes are a great solution to make sure they arrive safely. Ballots are expected to be in good hands once they are submitted. Don't trust just any container to protect them, get versatile and durable totes at US Mail Supply.
Our rugged containers have durable features including:
Welded seams to prevent splitting at edges and corners
Steel bar reinforcement to increase box compression strength
Reduced weight without sacrificing durability
Water resistance for easy cleaning and ballot protection from moisture
Easy carry handles
Use Document Trays for Easy Tabletop Separation
Our trays are great for sorting and arranging ballots and other documents by category on desks and tables. Their rugged, double-sidewall folded construction makes them robust enough to last through many election cycles. Their tapered design allows them to nest inside of one another for simple storage until the next city council race or other election. Keep those hectic moments after the polls close as organized as possible with sorting trays from US Mail Supply.
Heavy Duty Ballot Tally Boxes: Tough, Affordable and Versatile
If you want even more durability for the dollar, our heavy duty plastic trays are the pinnacle of rugged construction. These bins come in black and are sized at 4"x13"x25.5" with ribbing across the bottom to keep ballots upright. They are adaptable to many different uses and are always handy in a pinch. Keep a few on hand just in case something unexpected happens on election night.
Transport Dozens of Totes and Trays Full of Ballots Easily with Mobile Carts
In larger polling places, you may need to move many ballots containers to secure counting areas to guarantee the most accurate election results. Mobile mail carts from US Mail Supply are the best solution for moving many bins efficiently while keeping them sorted. Our carts will serve your polling station, no matter your needs:
Mobile Tote Carts—Available in various sizes, these sturdy carts are perfect for moving our mail totes all at once to save you valuable time during the counting process.
Bin and Tray Carts—These angled, multi-shelved carts allow easy access to each level of totes. Vote counting can be done with the trays and bins still on the cart.
Wire Basket Carts—The baskets on these carts secure bins and trays and are removable to give you modular flexibility and keep the counting process moving forward.
Organization is the key to smooth, accurate elections. Be sure your polling place has all the totes, bins and carts necessary to keep the voting process fast and straightforward.
Contact US Supply, the polling place organizational experts, for help selecting the right totes and bins for your elections facility.
Return to Current Postal News