Mailroom Solutions from US Mail Supply
Increase Productivity with Mailroom Management Equipment
Managing your office mailroom is important to your business productivity. Unorganized or inaccessible mailrooms will throw your entire work facility into chaos as important memos are misplaced and client invoices are lost. No matter your business circumstances, US Mail Supply has the solution to your mailroom situation.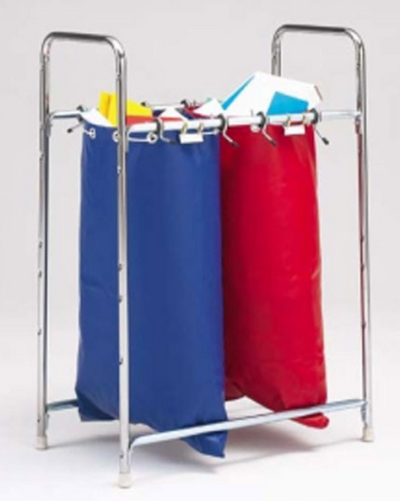 Have lots of employees?
The more workers you have, the more mail you can expect. From professional correspondence to trade show newsletters, incoming mail needs to reach the right set of hands. Managing mail will be simple with the right mailroom supplies. Mail carrier supplies are the first step to sorting out lots of mail as efficiently as possible. Color-code your departments with matching mailbags and pouches to keep invoices in accounting and client referrals in sales.
Dealing with limited space?
A well-organized mailroom will make the most cramped quarters functional. Mailroom furniture provides a sturdy, dependable way to keep a small room from getting too cluttered. Tables and mail sorters will automate your mailroom by stopping mail from piling up. Spacious tables provide plenty of room to sort out mail. Every envelope will have its place with spacious drawers and slotted mail sorters. Trays, totes, and bins are conveniently sized to fit into a variety of spaces to suit your needs.
Or too much space?
A spacious facility may seem like a dream, the next step in expanding your business into a thriving corporation. Unfortunately, you will find larger buildings are a nightmare of miscommunication. Employees who once sat across from one another are now spread out in their own cubicles, unable to conveniently pass along important papers and client files. Mail room distribution supplies will keep the mail moving and your business running. Small carts are easily maneuverable to make small deliveries and electronic trucks can transport large packages through your facility.
Have valuable or confidential documents?
When dealing with confidential or internal company documents, you need to ensure their contents stay private. Security mail stations provide the necessary protection and convenience for retrieving sensitive mail. Locked mail pouches are even suitable for containing medical documents and X-rays. You can rest easy knowing your vital documents are safe under lock and key at closing time.
Stay Organized
From summer interns to full-time employees, having a standard system with which to keep incoming and outgoing mail in order benefits all your workers. Create a half-wall with a mail sorter so employees can grab and go. Your office will run like clockwork once the proper mailroom supplies are in place. Your mailroom solutions are available and affordable at US Mail Supply.
Contact the mailroom supply specialists at US Mail Supply for effective organization solutions.
Return to Current Postal News