versatile™ Series 4C Horizontal Mailboxes
US Mail Supply offers high quality, recess & surface wall mounted 4C horizontal mailbox solutions which meet the newest USPS regulations.
Secure and durable, a 4C residential mailbox from US Mail Supply will last through decades of daily use. All 4C mailboxes are USPS approved for new construction - but we always recommend checking with your local postmaster for verification.
---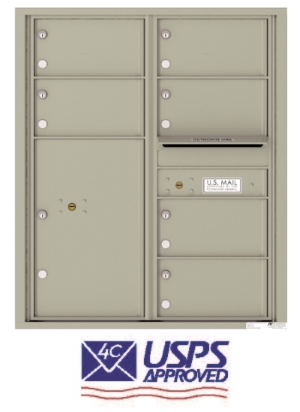 Shop 4C mailboxes or get a quote for a custom configuration
If you would like to see the full selection of pre-made products meeting your mailbox requirements, simply enter the number of mailboxes you need and hit the Search button. We will show you the results relevant to your search. If you need 21 or more mailboxes we'll send you straight to our design assistant - please fill out as much info as you can and we'll help you with a custom configuration.
Please enter the total number of mailbox compartments needed:
If you are looking for a unique configuration of mailboxes with 21 or more compartments, you can fill out our 4C mailbox design assistant and we'll help you put together a configuration. You will be given a form with detailed questions to help us better serve your needs. Once completed and submitted to our customer service representatives, we will send you a line drawing of a proposed mailbox configuration and a price quote. If we have any questions, we will call you to keep the process as efficient as possible. .
4C Mailbox Design Assistant
If you have any other questions, give us a call and we will be happy to provide answers.
The 4C series horizontal mailboxes we carry are ideal for a wide range of installations, including:
• Multi-Family Residences (Apartments)
• Office Mail Rooms
• Military Bases
• Colleges and Universities
• Government Agencies
US Mail Supply's manufacturer, Florence Manufacturing, has been making mailboxes for over 80 years.Their mailboxes have always offered exceptional security and durability, and the 4C series mailboxes are no exception. With a variety of configurations available and customizable features, these 4C horizontal mailboxes are extremely versatile.
Customizable Features
There are many customizable features for these USPS-approved 4C mailboxes. Custom mailbox units are even available with modified compartment sizes. You can also choose from 8 different powder coated finish colors.
You can find an installation manual, color chart, and a brochure with more product details by clicking on the products above. If you still need more information, don't hesitate to call. We're always happy to help our customers find the right mailboxes for their needs.
Shop all mailboxes for sale online from U.S. Mail Supply.