Shop Vertical Mail Sorters
Mail sorters are formed and welded all-steel construction
Sorters are available in grey or putty finish
Most sorters are available in either 12 ¾" or 15 ¾" (legal size) mail sorter depth (there is an upcharge for the 15 ¾" sorter depth)
These solid steel mail sorters are perfect for production mail centers or for the office environment
Vertical sorters are ideal for large envelopes, magazines, X-rays, etc.
Our Vertical Mail Sorters have pockets that are 3"W x 13H – width is adjustable in ½" increments
A ½" shelf identification lip is located on the front edge of each shelf for easy labeling
Unlimited combinations of these mail sorters and our large collection of mailroom tables can create the most efficient layout for any mail center.
The exclusive modular design is an all welded construction sorter shell that interlocks as you stack them, giving you more individual component options when your mail center changes or expands.
Combine with our adjustable height tables and mail carts for an efficient mail operation.
Shelves and sorters are finished with baked on enamel, powder coated and formulated for chip and corrosion resistance.
Don't forget to order shelf labels for your new mail sorter! Available in two sizes (box of 25). Find them at the bottom of this page.
Do you need additional or replacement shelves, vertical shelf supports, pocket bins or other accessories for your mail sorter? Just follow this link to our convenient sorter accessory page.
The Mail Sorters shown on this page are not manufactured to be hung on a wall - they must be fully supported underneath either by resting on a table top, shelf, placed on the floor, etc. Mail Sorters may optionally be fastened to the wall through the back of the unit at the customer's discretion for added stability.
Multi-tier Mail Sorter "shells" nest on top of each other, so it is not required to bolt them together. However, small bolt holes are pre-cut into the top and bottom of each Mail Sorter shell at all four corners, so the customer may fasten them together using small nuts and bolts (not included) for added strength and stability if the customer so desires.
Closed Back Vertical Mail Sorters for Offices, Schools & Homes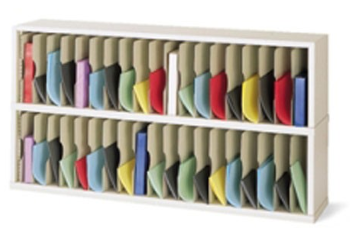 Your search for a cost-effective sorting solution ends at US Mail Supply. Get the best products at low prices by shopping our vertical mail sorters. If you can't find what you're looking for below, just give us a call and our knowledgeable staff will help! Call Local: (262) 782-6510 or Toll Free: (800) 571-0147
Stackable Charnstrom Mail Sorters
Charnstrom mail sorters are popular organizers in mail centers, offices, schools, homes, and more. Choose from single tier, double tier, and triple tier options. These metal sorters are not designed to be hung on the wall, but can be placed on the floor or a tabletop with adequate support. Easily stacked on top of each other, you can purchase risers – enclosed or open leg – for a convenient lift. Organize letters, x-rays, magazines, and anything else with our vertical closed back mail sorters.
Office Products from US Mail Supply
US Mail Supply has products perfect for mail centers, office mailrooms, and all other spaces looking for efficient, cost-effective organizational solutions. Shop office products including:
Count on US Mail Supply for all of your mailroom equipment and supplies.
Contact us online if you have any questions or would like to talk to a specialist.