Site Amenities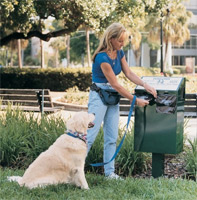 U.S. Mail Supply offers a site amenities and furnishings product line to optimize your property with convenience. Our DOGIPOT Pet Waste Disposal Systems add a new sense of "community" to your neighborhood, making it pet friendly while still keeping it clean. Several different sizes and configurations are available, allowing you to customize a pet waste solution to meet your specific needs such as public parks, private communities, apartment and condo complexes, campgrounds, RV Parks, hotel yards, dog walk areas, marina common areas and everywhere else dogs go. We also carry a wide variety of accessories, trash liner bags and litter pick-up bags. Call U.S. Mail Supply for help deciding the best site amenity for you, our friendly staff will be happy to evaluate your situation with you and help you choose the optimal solution.
Contact the mailbox accessory professionals U.S. Mail Supply by calling 262.782.6510 or 800.571.0147 for more information.
Shop all mailbox accessories and storage solutions from U.S Mail Supply.