Steel Security Mail Sorters (HIPAA COMPLIANT)
Product details:
Steel Security Sorters have full doors that double lock when closed and slide back into the sorter when open
Security sorters are HIPAA compliant to keep unauthorized eyes from seeing patient charts and information not intended for "prying eyes"
Security sorters can also be used as part of your sorting operation to keep checks, cash, purchase orders and any sensitive mail or documents locked up and secure
Strong light weight locking aluminum roll down doors. Security doors roll down and double lock on each end for complete security of checks, legal documents, and personal papers not for everyone's eyes
Available in three different sorter widths - 36", 48" and 60"
Steel Security Mail Sorters Provide Strong, Confidential Security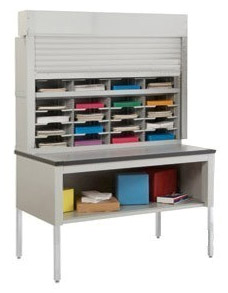 The Health Insurance Portability and Accountability Act (HIPAA) demands absolute confidentiality and security of all patient documents and private information. A Steel Security Sorter from US Mail Supply meets and exceeds these requirements.
Top-Quality Multi Use Mail Sorter
Available in three-foot, four-foot, and five-foot widths, this top-quality sorter can be used in a variety of ways, including storage of cash, checks, purchase orders, confidential communication, and any sensitive material. It's manufactured with welded steel, making it a superbly strong and secure storage unit.
Compare the welded steel construction of the Steel Security Mail Sorter to other mail sorters. With superb features like double-locked aluminum doors, high strength steel and complete welds, the Steel Security Mail Sorter offers unmatched protection.
The Steel Security Mail Sorter ensures diligent HIPAA compliance and enduring document protection. Patient records, legal documents, confidential information and even personal items will be safe and secure at all times. No unauthorized access will occur. Steel Security Mail Sorters aren't just for medical facilities, any organization which deals with sensitive documents can benefit from inter-office security mail stations.
Security Compliance for Years to Come
We understand your need to adhere to the stringent requirements of patient privacy rules. We have designed this unit to meet your every need. It is an attractive sorter, available in either putty or gray color, and is suitable for any professional environment. The finish is powder-coated and baked on to resist corrosion, rust and scratches. The unit will remain in great condition for many years to come.
View Our Selection of Mail Sorters:
Trusted Mail Organization
US Mail Supply is your leading online source for the highest-quality office equipment – including the steel security mail sorter – at the most attractive prices you'll find anywhere on the Internet. Visit our website often to get the best prices on the best products.
Shop all mail sorters for sale online at US Mail Supply.