Decorative USPS Approved Cluster Box Units
Has your drab, old cluster box become the neighborhood eyesore? Dress up the block with decorative accessories for your cluster mailboxes. Our classic cluster mailboxes include a pillar pedestal cover and crown molding roof cap. Or choose our traditional decorative unit, which includes an attractive column pedestal cover and roof cap with ball finial.
Purchase Complete Decorative Clusterbox Units or Add To Existing Mailboxes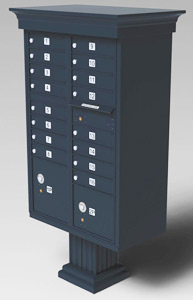 Mix and match accessories, or save money when you buy the complete package including a new vital™ Series F Cluster Box! New cluster mailbox units are available for buildings or communities of 4, 8, 12, 13 or 16 residents. All vital™ F-Series Cluster Box Units are verified with the USPS Postmaster General seal of approval. Decorative accessories will ship separately for quick and easy installation in the field. Pedestal covers snap together and install with minimal hardware. Roof caps install with double-sided permanent tape and require no additional hardware!
Durable all-aluminum vogue™ decorative accessories resist age and the elements. The vital™ F-Series line of cluster box units are made entirely of stainless steel and high-grade aircraft aluminum to endure the harshest weather conditions. Cluster box units and decorative accessories are available in six colors, including Sandstone, Dark Bronze, Black, Postal Gray, Forest Green or White delivering a custom look for any style building or community. The weather-resistant powdercoat finish resists scratching and vandalism, saving you costly and time consuming repainting jobs down the line. The vital™ Series F Cluster Box Unit keeps mail safe with interlocking master door seams designed to prevent prying.
Ask us about custom metal decals and custom engravings! Call our friendly customer service staff to find out how vital™ Series F Cluster Box mailboxes may qualify for LEED Certification credits.
Buy USPS Approved Apartment Mailboxes for Sale Online from U.S. Mail Supply
Compliment your luxury multi-unit residency with secure aluminum USPS approved apartment mailbox units for sale from U.S. Mail Supply. We've got a wide variety of residential and commercial mailbox to give you a bevy of options.
Shop Commercial Mailboxes
Contact U.S. Mail Supply by calling 262.782.6510 or 800.571.0147 for more information.