Open Back Steel Mail Sorters
Product details:
U.S. Mail Supply has the largest selection of Open Back Mail Sorters in the industry. We know you need a dependable mail sorter when it comes to personal and business mail organization
View our wide selection of mail sorter styles and accessories below, which fit every individual situation.
Our mail sorters are constructed of high quality steel and effectively welded
The adjustable shelves on our mail sorters can be moved in ½" increments to fit a vast range of mail and personal items
Most of our Open Back Mail Sorters are available in 12 ¾" or 15 ¾" pocket depths, and can be purchased in either gray or putty finish
Our mail sorters come in a variety of sizes and shapes from the heavy duty 72" wide mail sorters to the economical 25" wide mail sorters
Our Open Back Mail Sorters come without a rear panel, offering pocket access from both the front and rear of the unit
We also carry closed back mail sorters providing even more mail organizing options
You'll love the superior organizational power, quality of workmanship and design of our versatile mail sorters
Our Open Back Mail Sorters are manufactured to be placed on desks, tables, shelves or the floor. They are not manufactured to be hung on a wall without support underneath
Some light customer assembly is required
Open Back Steel Mail Sorters
Open Back Steel Mail Sorters from US Mail Supply are simple, convenient and strong.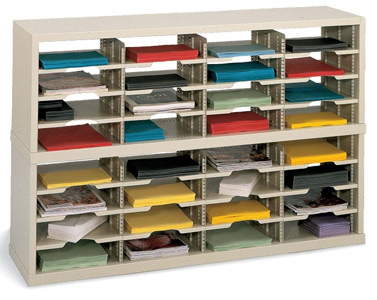 It's the essence of convenience. Access is open and easy from either front or back. The mail slots are simple to adjust for different sizes or quantities of mail. There are half-inch increments to handle virtually any type of mail. Two different pocket depths (12 ¾-inches or 15 ¾-inches) are available on most models. There are five different units which come in widths of 6-feet, 5-feet, 4-feet, 3-feet and 25 inches.
This open-back steel mail sorter is constructed of powerful welded steel. It's certain to last a long time in your office. US Mail Supply carries these organizers to make it easy organizing your workplaces. The open back steel mail sorter from US Mail Supply is attractive, suitable for any work office or mail room. There is a durable powder-cost, baked-on finish, offered in either putty or gray color.
This mail sorter is perfect for any desk, table, shelf or office floor. It is not designed to be hung on a wall, unless underneath support is provided. Some light assembly is required. Purchase one of our easily adjustable mail room tables, ensuring its height matches your mail cart if needed.
The open back mail sorter is also affordably priced. US Mail Supply carries the largest selection and biggest inventory of mail sorters in the entire office supply industry. When it comes to a personal or business mail organization, our mail experts will give you all the help you need. We offer only the best mail sorters, available at the lowest prices you'll find anywhere. US Office Supply is your finest online source.