4C Pedestal Mounted Mailboxes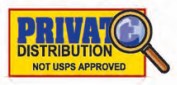 U.S. Mail Supply provides customers with a wide variety of mail supplies including high quality, private use Florence 4C pedestal mounted mailboxes. Ideal for private distribution with a centralized mail delivery location - a USPS letter carrier delivers to a single location and a building manager may then distribute mail to residents & tenants.
Pedestal mounted 4C mailboxes are not USPS approved by default - you must get approval from your local postmaster to use for USPS delivery.
US Mail Supply Has Quality Mailboxes at Affordable Prices
US Mail Supply provides high-quality, private delivery mailboxes at affordable prices. Private use 4C pedestal mounted mailboxes are perfect for facilities and communities where the USPS delivers to a single, centralized location. A master commercial lock grants facility managers simultaneous access to all compartments for easy mail distribution.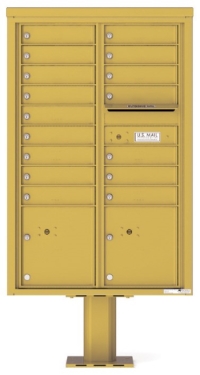 Front-loading private use mailboxes from US Mail Supply can be customized to meet the needs of buildings, including:
Colleges
Dormitories
Hotels
Financial Institutions
K-12 Schools
Military Bases
Private Medical Facilities
Pedestal mounted mailboxes customized for YOUR building
Free of USPS installation regulations, private use 4C pedestal mounted mailboxes are highly customizable. All models are secure and designed at a standard accessible height. Customize your private use pedestal mounted mailbox with the following options:
3 Tenant Sizes: 1-6, 7-14, 15-20
Custom Sized Compartment Installation
8 Scratch-Resistant Powder Coat Colors
Door ID Engraving (up to 12 characters)
Door ID Number Decals (up to 5 characters)
Secure, Reliable, and Durable Mailboxes
US Mail Supply sells high quality, secure mailboxes which come equipped with weather proofed outgoing slots, weatherproof and vandalism-proof powder coat finishes, and are built from heavy gauge aluminum and stainless steel. These pedestal mounted mailboxes are built to last for years, inside or outdoors. Choose from one of the 8 weatherproof pebble finishes to have your mailboxes resilient to vandalism and scratches while complementing any surrounding.
Mailboxes come equipped with normal sized tenant mail compartments, but custom sized compartments can be installed at an upcharge. Units equipped with Parcel lockers automatically come with a double locking mechanism built in, ensuring extra package security.
These pedestal mounted mailboxes are available in front-loading only. The mailboxes come in sizes for 1 to 6 tenants, 7 to 14 tenants, or 15 to 20 tenans. However many tenants you have using these mailboxes, US Mail Supply has the perfect mailbox option for you.