Neighborhood Delivery & Collection Box Units (NDCBU) - Standard & Modified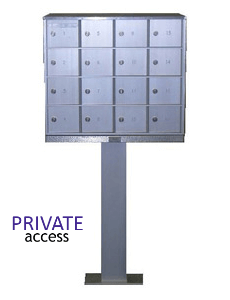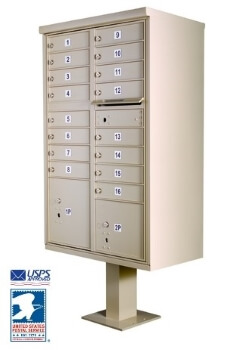 NDCBU's are NOT USPS approved and require special approval from your local Postmaster for USPS delivery. Florence F-series CBU units are the preferred option for USPS delivery.
Here's what you really need to know about NDCBU mailboxes: they are built for private use and NOT approved for USPS delivery. If you want to install an NDCBU (Neighborhood Delivery & Collection Box Unit) you will need the local Postmaster's approval before your purchase—as a replacement or for new construction.
You may order an NDCBU mailbox if:
It will be used for private delivery
If you have explicit approval from your local Postmaster
Please get approval before ordering a new NDCBU! If you've got the green light and you're ready to order, please scroll down to view availability.
NDCBU's vs. CBU's
NDCBU's are older style rear loading mailboxes the USPS de-certified back in 1999, meaning they are no longer approved for USPS delivery by default.
There are cases where local postmasters will allow you to use NDCBU's for USPS delivery – particularly if you are replacing an existing damaged unit or somehow the old unit is no longer functional. You may be able to get approval when multiple NDCBU's are side-by-side and one needs replacing.
What if I can't get approved for a new/replacement NDCBU mailbox?
You'll want to look into our USPS approved cluster mailboxes (and decorative cluster mailboxes) – F-series units from Florence. The biggest difference is the newer models are front-loading. Plus, they are built tougher, with a thicker aluminum cabinet and doors, harder to pry open, are better resistant to weather and can accommodate bigger packages.
Pedestal NDCBU mailbox details:
Manufactured from heavy duty aluminum & stainless steel construction that provides protection against rust, and allows our rear-loading Neighborhood Delivery & Collection Box Unit (NDCBU) mailboxes to withstand most weather conditions
Standard hood protects our NDCBU rear loading mailboxes against the elements
Our NDCBU rear loading mailboxes are available in anodized aluminum finish
NDCBU rear loading mailboxes are for private use only
Our NDCBU prices include the pedestal and mounting hardware. All tenant doors come equipped with a standard 5-pin cam lock with 3 keys for each lock
Standard NDCBU rear-loading mailboxes include an optional convertible mail slot to receive outgoing mail in the top left-hand door (you lose one compartment)
Dimensions of available compartment sizes in the Modified NDCBU's:
"A" compartment size (Standard): 5"H x 6"W x 15"D
"B" compartment size: 5"H x 12.5"W x 15"D
"D" compartment size: 10.5"H x 12.5"W x 15"D
"P2" compartment size: 10.5"H x 12.5"W x 15"D (PARCEL LOCKER)
Other modifications are available for these outdoor mailboxes. Please call customer service for assistance
Private use neighborhood delivery & collection box units
Crafted from heavy duty aluminum and stainless steel parts allows these pedestal mounted mailboxes to withstand almost any harsh weather. Private mail delivery units are perfect for dorms, military bases, hospitals, or anywhere else with their own closed mailing service.
Durable Mailboxes Intended for Private Deliveries Only
No matter which part of the country you need these mailboxes placed, they are built to last for years. With their pedestal mount, the compartments stand feet off the ground, so standing water or snow won't affect the doors or the mail inside.
Custom Neighborhood Delivery & Collection Box Units
The top left compartment on these Neighborhood Delivery & Collection Box Unit (NDCBU) has an outgoing mail slot, which allows for tenants to safely drop off their outgoing mail for pick