Modular Lockers
Build Exactly as Much Storage As You Need
You might not even know how perfect a modular locker setup could be. They are known for their ability to be arranged in many different configurations and layouts and are an extremely efficient method to save valuable space. In addition, modular lockers are very simple to move, and unlike recess and wall mounted lockers, they don't require you to hire a contractor for any special construction modifications.
Modular Metal Lockers for Homes and Businesses
One of the most common uses of these lockers is for irreplaceable personal files, hard drives, and USB storage devices. Whether you have manila file folders full of hard-copy original documents, old hard drives packed with irreplaceable information, or thumb drives with sensitive information you don't want to get lost or stolen, these multi-purpose modular lockers make fantastic personal storage options.
We currently have 12 and 15 inch modular lockers available with all of the nuts and bolts you need supplied.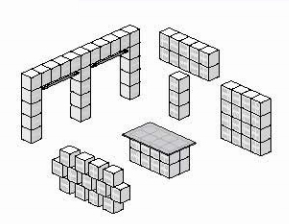 Sample configurations of modular lockers.
Common Modular Office Uses
Employee lockers
Gym locker rooms
Factories
Pharmaceuticals
Sensitive Documents
Jewelry, Rare Coins, Government Papers
Schools
Mudrooms
Home fitness centers
Modular Lockers with Built in Window Doors
Modular lockers with window doors are very popular, and allow the user to see the contents inside the locker. Don't let the transparent panel fool you, however. These lockers are still strong enough to deter any potential thieves, and this is extremely useful for medicine storage, chemical supplies, showpiece display, and other consumables that need to be safely locked away. Lose your key? No problem. If you're the rightful owner US Mail supply carries replacement master keys as well.
They are available in multiple different colors and can be equipped with several different bases, lock and key options, and even customizable engraving. Whether you need a keyless modular locker system with a detachable combination lock system, internal combination lock setup, or a built-in lock and key system, US Mail Supply has got you covered.
Residential Modular Locker Setups
Modular Lockers are not only popular amongst government offices, schools, and commercial businesses, but they also have a wide range of residential applications as well. Whether you need a simple locker setup for your mudroom, or a space saving storage system for your home fitness center, US Mail Supply has the web's most affordable prices on modular locker units, bases, and lock accessories.
Many of our residential customers even use modular lockers in their home office to secure valuable papers, deeds, tax papers, and other documents! Their flexibility and versatility allow endless configuration combinations, making these lockers a great addition to your home.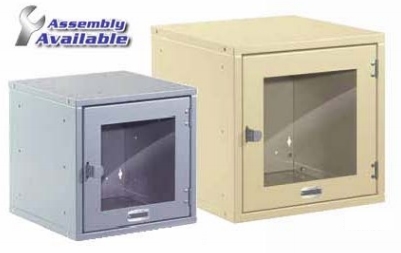 Commercial Modular Locker Systems
These lockers can also be used in commercial businesses, office spaces, and even on large commercial construction sites! They can be moved and transported with ease, yet are heavy duty enough to protect all of your valuables from harm. You can custom build your modular locker system to your individual standards, and the economic price tag on each unit means you can expand your setup only when you need to.
Store your Athletic Apparel Equipment in Modular Locker Systems
Our modular locker systems are great for holding your gym clothes, small athletic accessories, and all of your hygiene items for the gym! They are large enough to hold all of the essentials, yet their compact design means you don't have to take up a lot of space!
In addition they make a fantastic system for storing your wallet, purse, cellphone, and other electronic devices while you're busy working out. Their size makes them the perfect cubby hole for your shoes or gym sneakers, with enough room left over for your personal training notebook or other items. They are virtually thief proof, yet lightweight enough that they can be moved about with ease.