Mail Sorters for Sale Online
Mail Sorters Features:
Mail sorters are formed and welded all-steel construction
Each mail sorter shelf is adjustable by ½" increments
Most sorters are available in a choice of either 12 ¾" or 15 ¾" (legal size) depth
Available in grey or putty finish
Mail Sorters in a Wide Range of Styles to Solve All Organizational Needs
U.S. Mail Supply is the premier supplier of mail and shipping room supplies and equipment. You need a dependable metal mail sorter when it comes to personal and business mail organization.
View our wide selection of mail sorters:
Our mail sorters are constructed of high quality steel and effectively welded. The adjustable shelves on our mail sorters can be moved in ½" increments to fit a vast range of mail and personal items. Most literature organizers are available in 12 ¾" or 15 ¾" pocket depths and can be purchased in either gray or putty finish. Our mail sorters come in a variety of sizes and shapes from the heavy duty 120" mail sorter to the economical 25" mail sorter.
US Mail Supply offers numerous options from open back steel mail sorters and vertical mail sorters to steel security mail sorters, ensuring we have the solution best suited to your needs. You'll love the superior organizational power, quality of workmanship and design of our versatile mail sorters. When it comes to mail sorters and mail sorter accessories, you're sure to find what you need at U.S. Mail Supply.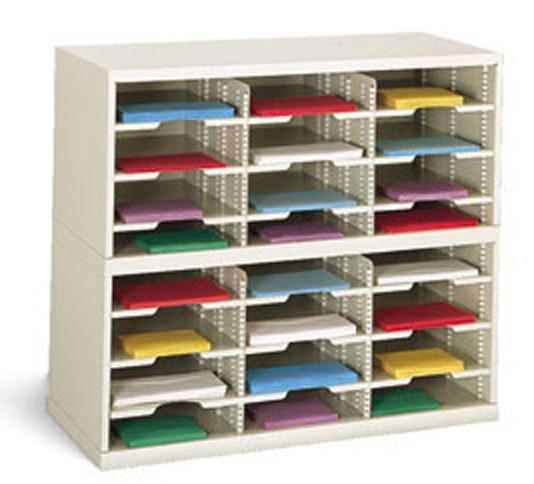 Schools / Classrooms
Welded steel mail sorters from US Mail Supply are perfect for supplies and classroom materials to keep employees' and students' resources separated and organized. Choose your desired number of slots/compartments based on your available space.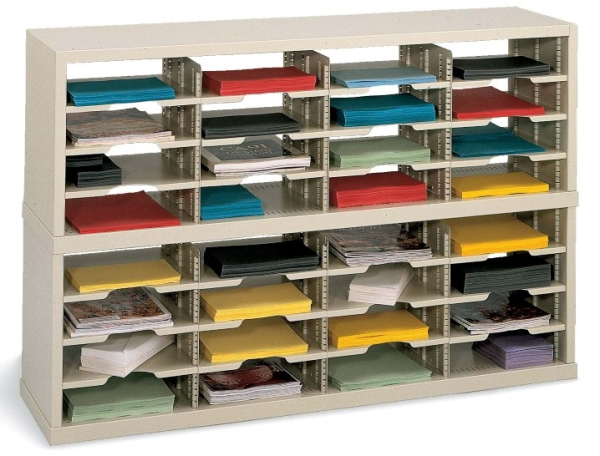 Office—Business
Small businesses deal with a TON of mail. Handling volume means providing competent, sensible storage solutions in your facility. US Mail Supply offers welded steel mail sorters for offices who need to get organized.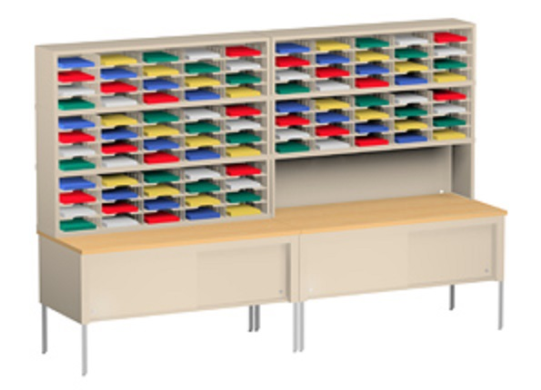 Mailroom
Turn chaos into spontaneous order. A frenzied mailroom environment cannot work without perfectly economizing space. Steel mail sorters from US Mail Supply stand up tough against heavy use and help keep workflow smooth.
Closed Back Steel Mail Sorters Offer Ease and Flexibility
This traditional closed back steel mail sorter from US Mail Supply is a dependable, flexible and durable addition to your office. Constructed of expertly welded, high quality steel, its shelving can be easily adjusted to fit all mail sizes. Available in attractive finishes of either gray or putty, it's designed to be placed on any type of desk, table, shelf or floor (not hung on a wall). Choose the best shelf depth for you. The closed steel back can be removed for easy access. The mail sorter from US Mail Supply comes in a variety of sizes, offering maximum versatility for any office environment.
Open Back Steel Mail Sorters Come in Many Shapes and Styles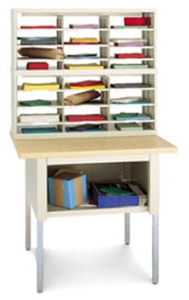 Flexibility and simplicity have always been the hallmarks of open back mail sorters. This attractive, all-welded steel sorter from US Mail Supply comes in either gray or putty finish. The shelves are easy to adjust for handling all sizes of mail. Access is easy from front or back. Many sizes are available with a broad selection of accessories. You can select the best pocket depth for you. US Mail Supply has the largest selection of mail sorters, enabling you to fully customize your mail room. This open back mail sorter is designed to be placed on any table, desk, shelf or the floor. If you wish to hang it on a wall, it requires support underneath.
Steel Security Mail Sorters Provide the Security You Need
Steel Security Sorters from US Mail Supply fully comply with the Health Insurance Portability and Accountability Act (HIPAA). The full doors double lock when closed and slide back conveniently when open. Patient charts and other confidential information will remain out of sight and out of reach. Other potential uses for this excellent unit are storage of checks, cash, purchase orders and any other important documents which need to be kept secure. The roll-down doors are strong lightweight aluminum. It's an attractive, secure and practical addition to any workplace. Steel Security Sorters are available in three widths:
Vertical Mail Sorters (Closed Back) For High-Volume Mail Centers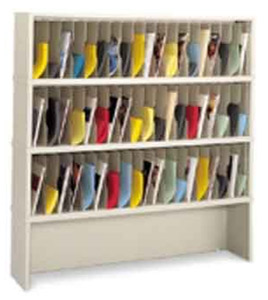 If you need to handle a lot of mail, the vertical closed back mail sorters from US Mail Supply are the way to do it. The vertical sorters are perfect for larger mail. The solid steel, welded construction is sturdy and attractive – available in either a gray or putty finish to resist chips and corrosion. Combine these with mail room tables to design your mailroom for maximum efficiency. The sorters' interlocking modular design allows you to easily stack them.
Mobile Mail Sorters Look Good, Last Long and Work Well
Maximum flexibility is assured with mobile mail sorters from US Mail Supply. We have sixteen different sizes and configurations available, all built with extra-strong welded steel. Each is durable and attractive, available in a poder coated gray or putty finish for maximum resistance to rust, scratches and corrosion. These closed-back sorters are easy to use and easy to move. Shelves are adjustable to handle all types of mail along with two different pocket depths, both ample. You and your staff will appreciate the convenience and efficiency these sorters bring to your mailroom operations.
Many Mail Sorter Accessories, Shelves & Labels Offered
Before you order your mail sorter from US Mail Supply, check out the top-quality accessories we offer to customize the sorter to your exact needs. You can add more pockets, attach labels and replace damaged shelves. These accessories let you tailor your new unit or upgrade an existing mail sorter. Vertical shelf supports are adjustable every half-inch. Four different depth horizontal shelves can also be ordered, all with gray or putty finish to match your sorter. Different-sized labels are available, each with a plastic holder, cardboard insert and Velcro backing (with adhesive).