Lockers & Storage Solutions
Storage solutions include cell phone cabinets, galvanized wire lockers & laptop lockers
U.S. Mail Supply's bulk storage lockers provide sturdy, secure tenant storage solutions for apartment tenants or businesses. Our bulk storage lockers feature heavy-duty construction, ensuring years of maintenance-free performance. In addition, our bulk storage lockers won't sag, lean or buckle. Our modular design makes our bulk storage lockers easy to plan, install and relocate. We also offer a huge selection of metal, plastic or wood lockers in many sizes and configurations that can be used in school or factory locker rooms, or dozens of other types of applications.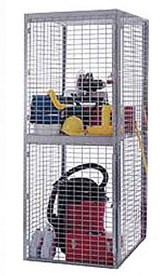 Need help configuring your locker project? Call the storage locker specialists at U.S. Mail Supply and our friendly Customer Service Representatives will be eager to assist you.
Locker Options to Best Suit Your Needs
U.S. Mail Supply offers an extensive selection of lockers and locker room accessories. From wire storage and metal lockers to open access and plastic lockers, and even the locker benches to go along, U.S. Mail Supply's got you covered. Browse our vast locker selection and find the best option for your application.
Contact U.S. Mail Supply at 262.782.6510 or 800.571.0147 for more information.