Extra Wide Metal Lockers
Extra Wide Metal Lockers
US Mail Supply supplies extra wide lockers fitting your particular storage needs. We carry a wide variety of extra wide metal lockers in either single, double, or triple-tier, providing easy-to-access compartments for everyday use. The doors of our lockers also feature a lift-up handle and recessed hasp, ensuring your valuables remain locked and secure inside.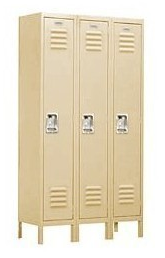 Constructed out of 16 gauge steel, US Mail Supply's extra wide metal lockers are sure to provide the strength and security you need for all of your valuables. Extra wide storage lockers feature a heavy-duty metal construction, guaranteed to not sag, lean or buckle as the years go by. Our modular locker design also allows the configuration to be easy to plan, install and relocate when needed.
Easy and Secure Storage Solutions
Extra wide metal lockers provide sturdy, secure storage solutions for you wherever you are. US Mail Supply extra wide storage lockers can be used in places such as:
Apartments
Businesses
Private homes
Offices
Schools
Gyms
Tenants of office buildings and apartments will be able to keep all their valuables safe in US Mail Supply's extra wide metal lockers, and even private homeowners can utilize them. There are many useful additions for our standard extra wide metal lockers, including three wall hooks, 15" to 18" depths, attachable legs, and finishes in gray, tan or blue.
The extra wide metal lockers available at US Mail Supply are designed to make storing and maintaining valuables easier than ever. If you have any questions about our extra wide metal lockers or about customizing your unit, please contact the customer service specialists at US Mail Supply today.
Contact the extra wide metal locker suppliers at U.S. Mail Supply today, or call us toll free at 800.571.0147 for more information on our storage solutions.