16-Door High Suite (56 1/2"H) - (2 to 20 USPS Approved Mailboxes)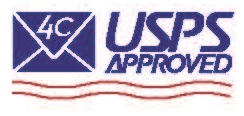 16-Door High Suite (56 1/2"H) USPS-Approved Commercial and Residential Lockable Mailboxes
USPS APPROVED!
These 4C Horizontal mailboxes are constructed of heavy gauge aluminum and 300 series stainless steel compartments for superior strength, corrosion resistance and exceptional outdoor durability. Rugged weatherproof pebble (textured) powdercoat finish resists scratching and vandalism.
Installation options for these versatile™ 4C mailboxes are fully recess mounted into a wall or similar type of structure (17-inches of wall depth is required), or surface mounted with the purchase of an additional surface mount collar required (see below for the appropriate collar for the module being ordered). Surface mounted units will protrude approximately 18-inches from the wall.
Most of these versatile™ 4C mailboxes are also available as pedestal mounted. Click HERE to go to our Pedestal Mounted 4C Mailbox page.
Our 4C Horizontal mailboxes feature quick-release master loading door lock latches for easy access by USPS Mail Carriers into the front-loading units. All mailbox modules include an integrated solid aluminum mail collection compartment for outgoing mail, with weather protection hood that provides maximum weather resistance and anti-fishing comb that protects against theft.
Our 4C horizontal mailboxes are only available in front-loading (mail carrier accesses from the front).
4C horizontal mailbox door identification is available in two ways: Number decals – up to 5 characters, or engraved door ID - up to 12 characters. Click HERE to see examples of the available door ID options.
Standard tenant mailbox size is approximately 3 1/4"H x 12 7/8"W x 15 1/2"D. Selected units are also available with oversized mailboxes and/or oversized outgoing mail compartments. Custom mailbox units are available with modified compartment sizes, including double-high (6 ½" high), triple-high (10" high) and quad-high (13 ½" high), depending on the 4C mailbox module being ordered. Some modification restrictions do apply, so please call our highly trained and helpful Customer Service staff for assistance if you require something other than what is shown below.
Double locking mechanism for added package security on all Parcel Locker doors
4C horizontal mailboxes are equipped with USPS-1172 910A tenant locks with 3 keys each &ndash.
Add a built-in trash/recycling bin to your 4C Horizontal mailbox configuration! These accessories to your mailboxes are designed to match the versatile ™ 4C mailboxes in this suite, and can be installed side-by-side with them. As with the mailboxes, these bins may be recess mountedor surface mounted with the additional surface mount collar. Choose from a variety of door flap identification to suit your needs, such as "WASTE", "PAPER", "PLASTIC", "GLASS", "TRASH", or customize your own. Click HERE to see pictures. See the product listing below for more details
The versatile™ 4C horizontal mailboxes are available in several powdercoat finishes - choose from Postal Gray, Silver Speck, Gold Speck, Black, Dark Bronze, White, Sandstone, and Antique Copper. Click HERE to view color chart.
Click HERE to view/print/download the installation instructions for the RECESS mounted versatile ™ 4C mailboxes
Click HERE to view/print/download the installation instructions for the SURFACE mounted versatile ™ 4C mailboxes
Don't see what you're looking for? Or do you have a large or complicated mailbox project? Please call our helpful Customer Service staff for assistance!
Contact the pedestal mailbox professionals at U.S. Mail Supply by caling 262.782.6510 or 800.571.0147 for more information.
The 4C horizontal mail boxes are built to withstand extreme weather conditions. The mailboxes are constructed out of heavy-gauge aluminum and corrosion-resistant steel for superior strength. The 4C series 16-door mailbox is designed for indoor or outdoor use, making it an ideal mailbox for apartments, offices and multi-unit buildings serviced by the US Postal Service.
Tenants of any building expect a secure mailing solution. With the double locking mechanism on all parcel locker doors, the 4C series 16-door high mailboxes keeps your tenants' packages safe and secure.
These versatile™ mailboxes offer many customizable features, such as door identification and color options. If you need more information, view the product details above or contact us.